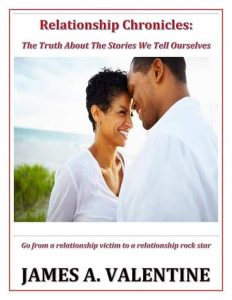 Awakening to Love author releases his first book entitled Relationship Chronicles: The Truth About the Stories We Tell Ourselves.
A page turning debut in the tradition of Osho's "Being In Love" and the spiritual teachings of Eckhart Tolle and Byron Katie, "Relationship Chronicles" is a dynamic self-help, personal development book, and Amazon best-seller from spiritual teacher James A. Valentine that will take his readers behind the veil to one of life's greatest struggles – relationships. This book will challenge his readers to contemplate everything they have ever believed about love and relationships and give them the tools to transform it into a powerful force in their life.
In this book, author, speaker, and spiritual life coach James Valentine chronicles the journey his readers take from longing for love to finding the love of their lives, and then after disappointment, finding themselves right back where they started. He will expose the stories they tell themselves about why it didn't work and why they couldn't find lasting love and introduce the hard truths along each path of the journey to once and for all open his readers up to true, enduring, and authentic love.
James A. Valentine, the father of a beautiful daughter, Savannah, has been working as an author, minister, spiritual life coach, speaker, and teacher for over 25 years.
After entering the darkest period of his life, James was able to identify and overcome roadblocks, pain, and struggles that he had lived with unconsciously for most of his life. Through his journey of self-discovery and self-love, he learned and implemented certain techniques in his life that allowed him to see almost instant positive results, letting go of unhealthy relationships, self-sabotaging thoughts, and more.
This book will challenge and redefine every relationship in life for the better.
Available now in Print & EBook online from Amazon, Barnes & Noble, Smashwords, BookBub, Goodreads, and in partnership with publisher ATL Publishing.