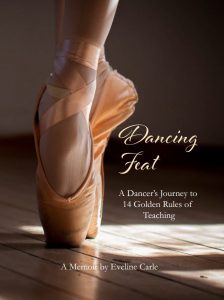 While there are many books about the study of dance on the market, there are very few that share such a personal, riveting story of a dancer's journey combined with the life lessons she then applied to her own teaching. Dancing Feat unquestionably sets the bar high, as author Eveline Carle shares her story starting at the age of 7 when her brother died, her mother left, and she found herself living in an Ashram in New York after her father kicked her out of their family home. The book is a story about Eveline's journey through ballet school in Montreal, Canada; dancing with the national dance company; and moving to the US where she then choreographed 100's of works, performing live in theater and in film. Author Eveline Carle's personal mission is to teach her students a greater sense of self-esteem through the study of dance. The 14 Golden Rules outlined in each chapter of the book are applicable and empowering to all, dancers or not; to name a few included are "dance training is a path not a leap", "learn by teaching others", and "build self-esteem, not egos." In the book, author Eveline Carle talks about the importance of learning to follow our own pace when it comes achieving goals. The conclusion reflects on self-acceptance and the importance of accepting all parts of ourselves.
Eveline speaks in detail about her training and how some of the teaching methods may have been questionable at times. For example, one of her high school dance instructors addressed all students in her class as "fat marshmallows", brought in a scale for weigh-ins weekly which most would agree is very detrimental to any growing teenage girl's self-esteem. "I wrote Dancing Feat to share my personal story, dancing career journey, and to inspire my students," said Eveline Carle, author and Director of Cape Cod Dance Center. "I believe in helping my students discover a great amount of self-esteem through the artistic expression of dance. My book shares 14 Golden Rules where I found ways to make the learning of dance a golden experience."
Dancing Feat is available for sale on http://evelinecarle.com/books/ and Amazon, and was celebrated at a highly-attended book launch party earlier this month. The book is already being raved about as a must-have gift for dancers and their parents this holiday season. Dancing Feat is about author Eveline Carle's path as a dancer and how she aspired to make dance education something sacred that could make a difference in young people's lives, which took many years for her to complete. Eveline Carle is available to answer any questions about her new book, as well as future and current programs at the Cape Cod Dance Center.
"I am very about the response to Dancing Feat so far," said Eveline Carle, author and Director of Cape Cod Dance Center. "I have received many wonderful responses from my students, parents, local Cape Cod media and from dancers of all ages."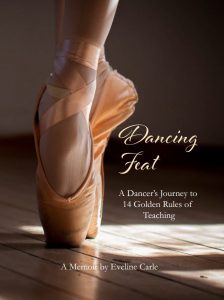 About Eveline Carle
Eveline Carle, a Montréal native currently lives in the United States, where she owns
and operates the Cape Cod Dance Center, providing a well-rounded education and artistic inspiration while helping students find a greater sense of self-esteem through the study of dance. Cape Cod Dance Center teaches a variety of disciplines including ballroom dancing, classic ballet, contemporary dance, jazz, tap, lyrical, hip hop, yoga and wellness; all taught by dance professionals with years of experience. For more information on Dancing Feat, to purchase the book or attend the launch party, please visit http://evelinecarle.com/books/.