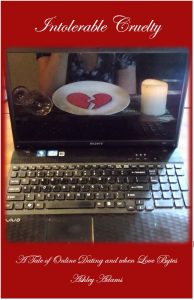 Intolerable Cruelty ­is without question a reason why any woman should never "swipe right." This is tale which will take readers down a perilous online dating path with lessons learned along the way, along with a significant amount of tears and a lot of laughter. Readers will marvel through a journey of not only a near-death experience, but the loss of a fantastic family, beautiful home and friends, while author Ashley Adam's life is systematically turned upside down piece-by-piece.
How does this story end? You will have to read this book to find that answer out for yourself, but at the end Intolerable Cruelty will make any reader want to question love itself and truly avoid a life of utter chaos. This is a true story about someone who not only met "Mr. Wrong," but got sucked into falling on a dangerous path which will leave readers utterly shocked.
Intolerable Cruelty is a must-read for those who find themselves needing help in an epic online dating situation, for anyone who wants tips to avoid the crazies out on the internet and lastly, an ongoing reminder to always give your single girlfriends a well-deserved hug.
$6.99 (eBook pre-sales)
Click here to purchase.