We love hosting book launch parties at our office and had a great turnout for the Late Bird book launch party. Author Jason K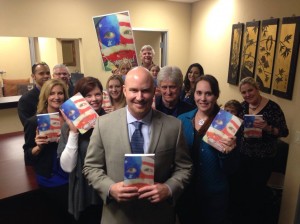 raus and guests enjoyed food, refreshments and an opportunity to purchase a signed copy of the book.
About Late Bird:
In Pursuit of the American Dream!
FROM AN EARLY AGE FALCON SANE WANTED TO BE PRESIDENT. When asked why, he answered, "So I can help people."
During a period of political and social unrest in the U.S., tender-hearted Falcon travels through youth into adulthood crossing the paths of love, corruption, and power, in search of the American dream—freedom. Despite incredible odds, he never gives up, never gives in, and never loses sight of who he is.
His quests carry him to the wilderness of the Idaho mountains, into the belly of a foul profiteering county jail, clamped in the jaws of an unethical corporation, and ultimately to a long-desired romance. As a successful businessman, and with an incredible woman at his side, Falcon turns his passion toward fixing the corruption of his beloved America and runs for president.
His message is clear: United, we can make a difference.
If you missed the party and would like to purchase a copy, click here.