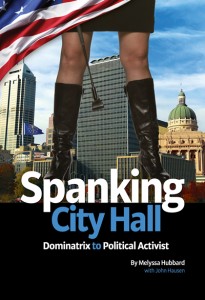 Meet our latest  Book Public Relations Client – Spanking City Hall by Melyssa Hubbard!
"Spanking City Hall: Dominatrix to Political Activist" is the true story of the woman who founded the Indiana Tea Party.
She stood her ground against government persecution for her dungeon and underground career.  In response she morphed into a colorful political activist. Her activism orchestrated the biggest mayoral upset in Indiana history and led to government cuts to property taxes resulting in savings of more than $2.6 billion for Indiana homeowners.
The book promises a fascinating journey for readers interested in alternative lifestyles, politics, spirituality, philosophy and psychology.
Stay tuned for media spots to come and for more information click here.