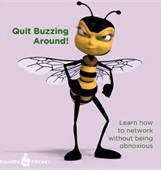 Follow-Up Failure.  Do I have to explain how lame this is? Yes, I do. Most events I attend the facilitator tells the whole group why it's important to follow up. Apparently, at certain events too many people are stuck in the buffet line, or their head is stuck up their A$$, or just generally have their own 'listening issues', and miss this key announcement. If someone says,  "I want to do business with you," hands you their card with a smile, follow up! And if you do not follow up, your marketing dollar efforts (a.k.a., the money you spent on the event to attend, the new suit you're wearing to attend said event, the gas to get to the event, and oh yeah, the work hours lost while you attended, you get the idea… clue phone alert, pick it up people), you might as well flush your money down the toilet, throw it in the fireplace, or just give it to the Publisher's Clearing House people for magazines – you are not going to see it again anyway. At least with the Clearing House people you get some magazines out of the deal (Probably NOT going to win the contest, though… unless of course you're eighty and on your deathbed…. have you seen how old the people are in the commercials?).
Pushy-Pushy Pisses People Off. I have been at conferences and have had everything in the world shoved in my face. My particular favorites are the people who insist that their product will iron out half of the wrinkles on my face (p.s. I do not need a face iron). Also, love the crazy dieticians who have the latest Orange Ginza Berry drink that's going to cause my chest size to increase, waist size to decrease and will, delightfully decrease the size of my colon (WTF?!). And finally, to the people that feel the need to come up to me and say they are style experts for people who have uniquely shaped bodies. What does that mean? Usually these people shop got their fashion sense from a JC Penny catalog from 1991, and I'm supposed to hire them to be my so-called fashion expert? Really? No thank you. If you are in the "looks" marketing department chances are people should just come to you.
For more funnies, sign up for the M-Dash here.