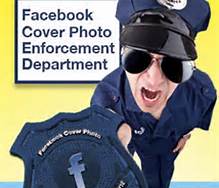 Facebook truly needs to have a law enforcement unit. There are so many Facebook marketing blunders out there that really make me roll my eyes on a daily basis. Here are a couple of occurrences when the Facebook police need to be called on you:
1. You tag people in your posts in order to self-promote yourself or your business. This is ANNOYING! Please do everyone a favor and stop this behavior ASAP. Instead of actually selling your product or service, you are just pissing people off. You know who you are.
2. You respond to a long string of Facebook posts, with something totally unrelated and are promoting yourself or your business once again. This usually comes in the form of, "Great post Jennifer! Tell your friends about my candle party on Friday. See you then!" You may think your are being clever, when in fact you are being transparent and also annoying your friend Jennifer. Please stop and do everyone else a favor.
3. Incessantly posting in a Facebook group. because you are the organizer and everyone is getting your messages, which are once again geared towards promoting yourself and not group business. I am going to let you in on a little secret … people are wising up to your bad Facebook behavior and are quietly turning off notifications from your group, so your constant posts are now falling on deaf ears. I suppose you could call this self-policing. My point? For the love of God, please stop or else I (or someone else) will be calling the Facebook police on you.