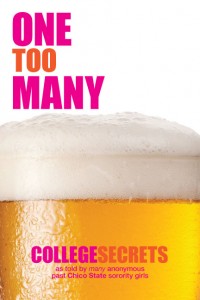 I had to share … and thought this would be a funny blog to say the least. Here is a tidbit from One Too Many:
Chapter 6 – The Flying Halloween Maxi Pad
There are certain "holidays" at Chico State that I will always remember. St. Patty's Day was a jewel – standing in line for a bar called Riley's at 6 a.m. and typically passing out by noon. One year I even managed to go to work at noon wearing my sparkling Mardi Gras beads and a green St. Patty's Day hat. I worked at a tanning salon and spent the majority of my shift waking up passed out sorority girls in tanning beds who wanted a tan for Christmas Break. Oh, and these beds were being operated by a not-so-sober operator who kept calling her very own sorority house and making her fellow sisters bring her drinks. I don't know why they thought I was drunk… maybe the cocktail and Halloween costume gave it away. Anyway, and moving on… this story has do with Halloween.
We hope you can make it to our launch party tonight at Clubhouse 56 in downtown Sacramento at 6 p.m. If not, you can get a copy for yourself here.