These are people in business that just make you role your eyes. Enjoy!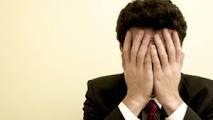 Inappropriate Ian. Inappropriate Ian is … beyond inappropriate. I will just give you the highlight reel. Ian has such a bad reputation I have had media and other colleagues share stories that literally last an hour and make you roll your eyes. As a business owner, you basically do not want to be associated with Ian. Anyway, Ian contacted our office last week regarding a project and demanded (not joking here) to have a meeting on specific day and at a specific time. Why is this inappropriate? Let's see … coordinating with two companies and not asking their availability first. Classic inappropriate Ian behavior. Let's just say that for this individual I am booked solid until 2015.
Shocking Sara. Sara takes innapropriate behavior to a whole new level. Sara is the perfect example of aggressive business behavior at all times. Sara also constantly harasses people to join her down line for MLM Company. The people she normally contacts are successful business owners who have zero interest in her product, but that does not stop Sara. After Sara was told that her application was not accepted by an organization, she decided to show up at organization while they were holding a meeting to confront the founder. Publicly. Shocking Sara needs to realize that this is bad business behavior, but unfortunately has not picked up the "clue" phone which has been ringing off of the hook.
Lost Lori. Lori is lost both professionally and personally. Lori is also that person that calls right before a party starts just to chit chat – normally when the host is running around like a crazy person. Lost Lori also like to call the speaker right before a networking event because she is lost.  Lori calls to ask for the address which is clearly on the event and then further asks if the address is correct, wants the address again, wants to know what the building looks like, etc. All I have to say here is that Lori needs GPS.
Facebook Faux Pas Paula. I really do not know where to get started on Paula. I think a communication intervention via Facebook is in order. I was introduced to "Paula" through a colleague who wanted me to invite her to an upcoming networking event. I send her an invite and she proceeds to email me at 10 p.m. at night asking questions about the group and the company. Even though I was still working, I planned on answering in the morning. Paula sends me a follow up message at 8:30 a.m. telling me how disappointed she was I had not responded. All I have to say here is really? Paula needs to give people time to respond and of course I politely reminded her that I received her original message after ten the night before. Insert eye roll here.