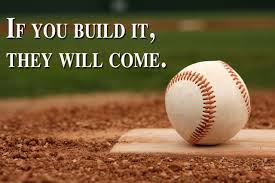 Having the "Field of Dreams" syndrome. With zero offense to Kevin Costner, here is the deal: if you build it, they will not come. This only occurs if you are Oprah, but last I heard even the OWN Network was hurting. Unless you are uber famous, they will not come. Many business owners fall into the "they know me" approach. It doesn't work out. Ever. Sorry Kevin, I guess that is why it is a movie. My point here is that you should only not have quality marketing items (website, collateral, etc.), but have PR to promote it.
Assuming all competition is direct competition. This is simply not true. As far as I am concerned, there is no competition (and if spell check tries to change this word into completion one more time, I am going to drop my laptop in the pool. Sorry, not a Windows 8 fan. Bad purchase). I have some new office buddies (yes, I went brick and mortar) and they are some pretty knowledgeable marketing peeps. I am thrilled to have worked with them on some projects and 3 minds are seriously better than one. I will do an announcement about this later (mainly because I want elephants at the grand opening and my mom was mortified about the office chairs I wanted to order), but my point is collaborate with like-minded individuals and businesses – bigger & better projects/opportunities will fall at your feet.
Having a crappy website. This is a huge downfall for any business owner. Visitors will equate crappy with cheap products and services. There are a ton of crappy free templates out there and this is not an area where you want to go. Take the cheap route out of your marketing. Please do yourself a favor and hire a professional. I once had a potential client wanting to sell 30K art projects off of a landing page. I am not joking. Please do not get me started on this one.
Endless scroll syndrome. Here is another website one: people do not have all day to look at your website and no matter how fabulous you think you are, you have about 30 seconds. Maybe a minute or two. Have a video. We all live in an A.D.D society and I highly recommend having a video on the front page of your website. This would be something short and to the point about what you do. You can never expect a potential customer to scroll … ZZZZ. Anyway, you get my point. If you have endless pages of scrolling, you may need to fire your webmaster.