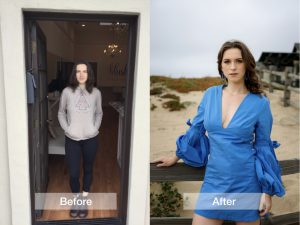 Please enjoy another fun M Communications Inc. and M Com Publishing client – especially for those who love fashion!
Many women fall into the trap of not only under utilizing their wardrobe but are even unaware of simply steps they can take to go from fashion passé to fashion forward in a matter of seconds. Most women also do not know that they can actually pair high-end fashion lines such as Prada with every day consumer retail outlets such as Target, resulting in a highly fashionable wardrobe while not breaking the bank account. How is this possible? Thanks to Aisha Jones, her company not only inspires, but truly helps women achieve current fashionable looks while capitalizing what is currently in ones closest and offers a plethora of resources including educational membership programs, one-on-one consulting and much, much more.
"My main goal is not just to transform a women's closet and but inspire confidence by helping women dress to impress," said Aisha Jones, CEO and Wardrobe Strategist. "I have had the privilege of working with women in multiple industries and the results have been outstanding across the board. I am pleased that my website offers the ultimate resource for fashion for woman across the board."
The Aisha Jones Media Company offers an unprecedented membership program, including a free membership and other paid levels for additional resources. Other highlights include an educational fashion blog and fantastic videos that truly help woman dealing with day-to-day wardrobe challenges. Last but not least, website visitors can sign up for the Aisha Jones newsletter, enjoy weekly You Tube videos and much, more. Most importantly, this CEO believes in giving back and this is where the 100 Dresses Challenge comes into play. The goal of this non-profit campaign is to donate 100 dresses to the nonprofit organization Dress For Success. This Pretty Little Things campaign not only helps women when going to an interview, but the goal is to make deserving women feel beautiful. As of today, the Aisha Jones company only needs 77 dresses to meet this lofty goal.
"I am very proud to be working with Dress for Success," Aisha Jones, CEO and Fashion Strategist. "I truly believe that with one dress for a woman, it will not only become a favorite, but be a catalyst for changing a life."
About Aisha Jones
Aisha is dedicated to making the world more stylish, one person at time, one outfit at a time.
As a successful entrepreneur, Aisha enjoys over 10,000 followers via AishaJones.com, her social media channels, her Stylecast podcast, and The Clique email newsletter. The membership programs are widely popular, and Aisha Jones is the former Accessories Editor for the San Diego Examiner. For more information on consultation services, membership programs or to book Aisha Jones for a speaking engagement please visit: www.aishajones.com.