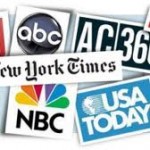 Here is the thing: one bad interview can hurt your business. If you have a great interview, they may ask you back. A great example would be the new book Exersexolgy. Not only did the author get interviewed by Playboy at the conference, she is being flown down to LA this February for a 1/2 hour live interview in the XM Playboy studio. If you are not comfortable in front of a camera or a mic, get some help. Below are a couple of tips and tricks in the meantime:
If the idea of 6 cameras in a studio make you nervous just look at the hosts/anchors and chat with them.
Watch the radio/television show first to get an idea of the format, how long the segment is, etc.
Ask your publicist about the topics that are going to be discussed and how to prep.
With that being said, happy interviewing!